What is an optimized LinkedIn profile?
An optimized LinkedIn profile is one in which every section of your personal profile is complete, showcasing your expertise, value, and professional endeavors. An optimized profile not only boosts your visibility in LinkedIn searches but also fosters trust among potential connections and followers. To unlock LinkedIn success, the first thing to do is to optimize your LinkedIn profile.
LinkedIn, boasting a staggering 900 million users, has evolved beyond being a mere job search platform. It's now your gateway to constructing a robust professional network and crafting a compelling personal brand. Whether you're actively job-hunting, considering a career switch, or aiming for continuous career growth, the key lies in ensuring your profile shines brightly, aligning you with your desired opportunities and employers, now and in the future. LinkedIn is known as the premier social media and networking platform for your career.
LinkedIn Profile Optimization Tips for Maximum Exposure
When optimizing your LinkedIn profile, consider these five steps to make your LinkedIn profile stand out from your competition.
1. Photo & Banner Consistency
When setting up your profile, you want to ensure you upload a strong, clear and visible profile picture. A clear image, revealing your face, instills trust in your network and recruiters. To optimize image quality and presentation, ensure your LinkedIn profile picture is at least 400 x 400 pixels. Additionally, consider setting your image visibility to 'All LinkedIn Members' or 'Public' when clicking on your profile picture. This choice enhances your profile's discoverability by search engines, making you more accessible to potential connections and opportunities.
Your headshot is the cornerstone of your personal brand—a critical element that shapes the initial perception others have of you, be it for a job application, social media presence, or any situation demanding a professional image. Yet, headshots have a shelf life, underscoring the importance of periodic updates.
If you want to know five why updating your headshot is essential for personal branding, I suggest reading this article from professional photographer Sarah Davids here.
You want to use a background photo (or banner image) that will compliment your headshot photo and not compete with it. Add an eye-catching banner image to create a warm, inviting impression that conveys your value proposition. When you present consistent branding in both photos, it gives visitors a clear idea of who you are and what you offer. See the example below.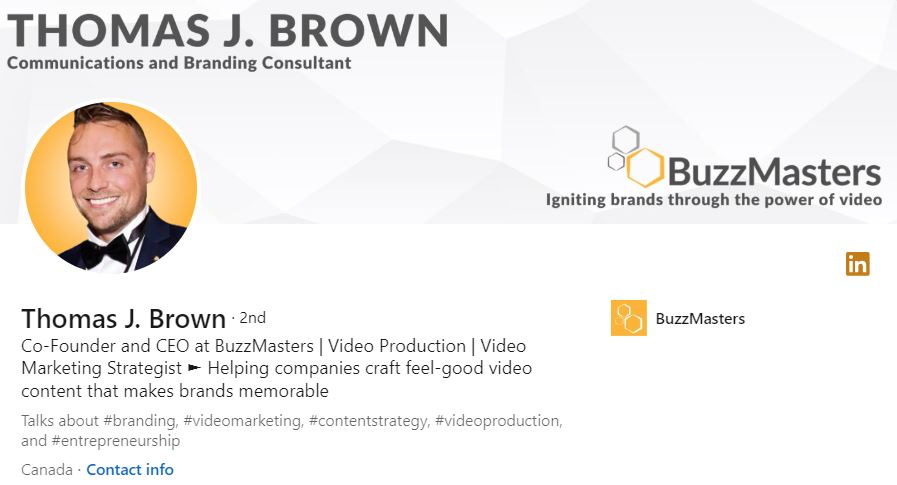 2. Craft a Headline That Makes a Strong Impression
Your headline serves as the opening statement on your LinkedIn profile, making it a prime opportunity to boldly exhibit your unparalleled value and digital marketing expertise. Rather than settling for a mundane job title, seize this space to highlight distinctive skills and achievements that truly distinguish you. Along with your headshot and banner image, is one of the first things visitors see when arriving at your profile so use it for your benefit.
Crafting a captivating LinkedIn headline goes beyond showcasing your professional prowess; it's about strategically infusing it with keywords that catapult you to the top of recruiters' and hiring managers' searches. Unleash your creativity within the 220-character canvas LinkedIn provides, skillfully incorporating keywords that vividly depict your expertise. Here's an example of a powerful headline that takes full advantage of the characters LinkedIn offers while making a strong statement.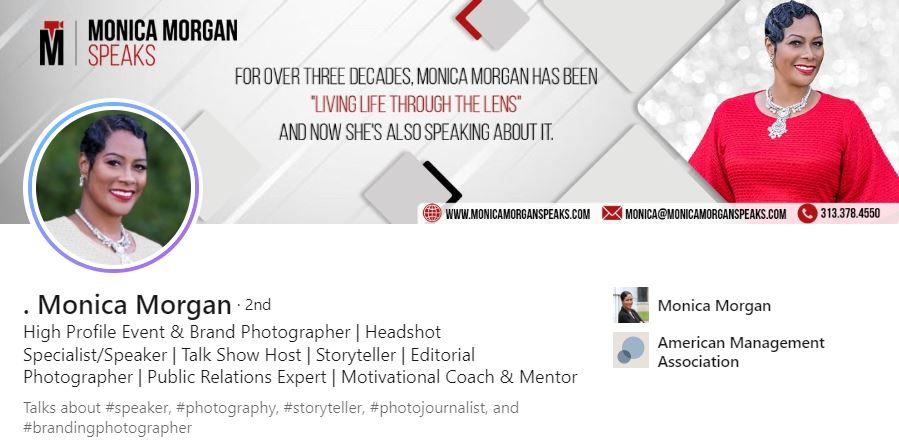 3. Be bold by writing a killer LinkedIn summary
View your LinkedIn 'About Me' section as the ultimate sales pitch within your profile—it's the product you're offering to potential employers, setting the stage for their impression of you. A compelling LinkedIn summary is your key to capturing attention, as it determines whether recruiters or employers delve deeper into your profile.
A winning 'About' section strikes a balance between depth and brevity, avoiding the pitfall of turning into an unreadable essay. Given that most readers skim summaries, maintain an engaging tone, and incorporate industry-relevant jargon where appropriate. Don't forget to provide a concise overview of your core technical skills if they apply.
The primary objective of a robust profile summary is to establish a strong personal brand and showcase your unwavering commitment to shaping your career path. To master this section, gather insights from articles, prominent LinkedIn profiles in your field, social media posts, or consider hiring a professional LinkedIn profile optimization service.
You have up to 2,600 characters (approx 400 words) to paint your narrative, so wield your words wisely. Here's an example of how you can immediately capture your visitors' attention at the beginning of your summary.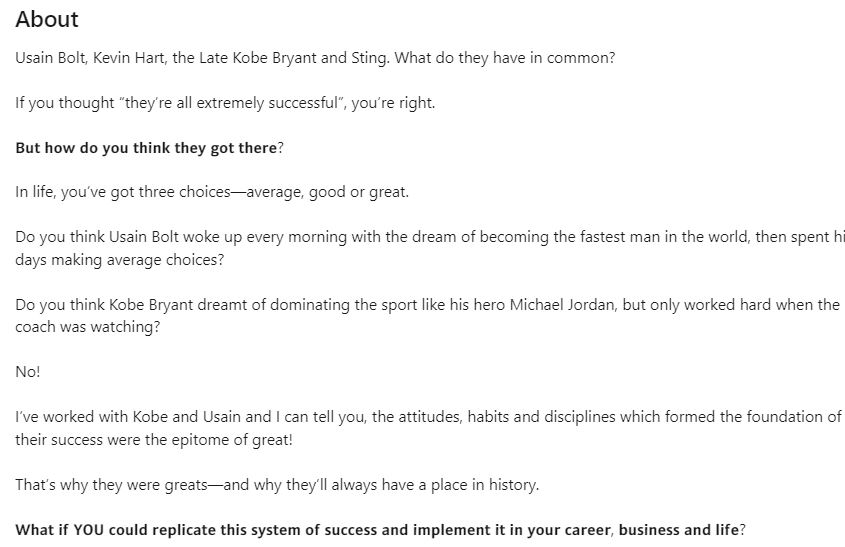 4. Highlight your success in the Experience section
While LinkedIn profile optimization involves more than just detailing your work experience, it's essential to complete this section. The depth of information you provide for each work experience is your choice, but prioritize highlighting your key achievements.
To truly set your profile apart, dive deep into each role within the 'Experience' section. Elaborate on the scope of each role, skills honed, pivotal projects, and more. Summarize all your achievements, encompassing both your professional and personal growth experiences. These intricate details offer profound insights into your character, and astute HR professionals and employers will undoubtedly take notice as they peruse your profile.
For those presently employed, ensure your description remains comprehensive and up-to-date, as your current role holds the greatest interest for recruiters. If you're a recent graduate, shine a spotlight on your project work, volunteer endeavors, and internships.
Embed metrics within your role descriptions—a powerful way to substantiate your abilities. Consider this simple formula for crafting success stories in each role: an action verb + a descriptive noun + quantifiable metrics + a compelling outcome.
Here are valuable tips when filling this section:
a. Craft concise, razor-sharp descriptions for each experience. Be prudent in your selections, especially if your work history is extensive.
b. Focus on the best achievements related to your career.
c. Be strategic with job titles. If your job title might not match the types of jobs you are targeting, you can either change it or add a descriptor next to it that is more widely known for that type of job position. Example Professional II (Senior IT Technician).
5. Maximize the Skills section
LinkedIn allows you to include up to 50 skills on your profile. State all the skills, even the ones outside your professional practices. This is an easy way to build your personal brand and engage your network.
Filling out the Skills section completely and getting endorsements makes your profile more visible to recruiters, but that isn't worth much if the rest of your profile is lacking. When you add skills to your profile, your first-degree connections can "endorse" you for skills that will actually help the strength of your profile. It will allow you to be discovered for opportunities that are related to those skills.
While you can add 50 skills, only the top three will display on your profile unless the person reading it chooses to "see all skills." That means the first three skills should be the ones that best represent what you have to offer. Here, you can and should rearrange these in any order you like. This is especially valuable if you plan to change careers.
When used appropriately, your LinkedIn skills section can be a value tool to get you ahead in your job search. By listing 50 skills, moving your most relevant skills to the top of your list, getting endorsements, and owning what a pro you are in your work, you're well on your way to crafting a LinkedIn profile that's sure to attract recruiters.
To gauge your progress, you can always track your current LinkedIn SSI Score. For that, we suggest you check out our article on how to improve your score on LinkedIn.
---
WANT TO OPTIMIZE YOUR LINKEDIN PROFILE FOR SUCCESS?
Area CV is the trusted partner for transforming your LinkedIn profile into a powerful career tool that spotlights your skills, experience, and impresses your network.
.